Beginners Need to Know These 9 SEO Tips and Tricks
Search engine optimization (SEO) can seem complicated.
But that's because it is sometimes. Between Google algorithm updates and changes in searcher behavior and marketing technology, there are so many moving parts that guide your SEO strategy.
However, even beginners can follow simple SEO tips and tricks to increase their page rankings on search engine result pages (SERPs).
From improving components of their webpages to signing up for powerful SEO analytics platforms, beginners can easily use the same techniques and tools as SEO experts.
Here are nine SEO tips beginners need to use to get a jump start in 2019.
1. Research Keywords
Keyword research is essential to understanding your site's SEO and your competitors' site as well. However, luckily, you do not have to be an SEO guru to know which keywords to use.
Your best resource is keyword research tools.
Free and Paid Tools
There are so many free SEO tools, as well as several paid ones, that can walk you through each step of researching keywords that you want to target. Most SEO tools offer free versions and paid versions.
The free option usually has limitations, like only a certain number of keyword searches per day, whereas the paid tiers include more features for each tool.
One of the best keyword research tools is SEMrush. It shows you important stats you need to consider when building your list of targeted keywords, like the monthly volume of searches and the cost-per-click for each keyword. You can also view a list of related keywords for phrases you're looking for to get content ideas.
The 1-2-3 Process
Simplify your keyword research approach as much as you can. Your process should boil down to three simple steps.
1. Buyer Persona Research
The best way to conduct your keyword research is by starting with your buyer personas in mind. Consider what queries they're putting into search engines.
List out their top pain points and goals, then research keywords and phrases that relate to them you add to your keyword list.
2. Keyword List
Simply list out as many keywords and search queries you can imagine your buyer personas using, then add important research information so you can prioritize your keywords.
You can build content ideas based on keywords that align with your ideal buyer's interests and the keywords that have a good balance of search volume and level of difficulty for ranking.
Moz Keyword Explorer is another excellent keyword research tool. They use a unique system for the scoring level of difficulty (0 to 100) to show how hard it is for you to outrank your competitors on the first page.
The priority score, which is also listed as 0 to 100, combines other metrics (like organic clickthrough rate) to indicate how much of a priority the keyword needs to be in your strategy. The higher your priority score, the closer you are to the sweet spot of high search volume, organic CTR, and low difficulty.
3. Content Strategy
Finally, you can brainstorm detailed ideas for blog articles, whitepapers, webinars, and every other piece of content that can attract and engage your target audience.
For each piece of content you're publishing, keep a target keyword in mind. This way, you can optimize that content for the keyword, giving you a better chance of ranking for that query.
2. Spy On Your Competitors
SEO experts understand the value of keeping up with their competitors. But this requires more than just reading their blogs and following them on social media.
Investing in the right competitive analysis tools is the best first step you can take. For example, if you're using SEMrush, the feature Domain vs. Domain makes it easy for you to compare your domain against other domains. Simply select the keyword type you want to research, like organic keywords, and you'll see a side by side comparison of these sites by keyword, position on SERPs, and more.
By knowing how you stack up against the competition, you can drive your inbound marketing and content strategy to get ahead of other brands. This helps you prioritize opportunities for certain keywords you want to gain ground on.
3. Follow an On-Page SEO Checklist
Known as on-page SEO, optimizing specific parts of your webpage is key to boosting your page rankings. Focus on enhancing your on-page SEO for page elements including:
Page title
Meta description
Header tags (H1, H2, H3, etc.)
URL
Ensure you use your chosen keywords in the above aspects of your most high-ranking pages to signal to search engines that your content is relevant to these keyword searches.
One way to avoid the guesswork out of optimizing on-page SEO is to use tools like BrightEdge. This tool provides recommendations for adding keywords in the most important page elements.
You can also set it up to alert you to whether keywords are missing from page titles and meta descriptions and even get suggests for which keywords to use.
However, despite all of the on-page optimization, the most important element every SEO professional needs to focus on is delivering high value, informative content.
4. Deliver Awesome Content
To fully understand the impact your content's quality has on your SEO efforts, let's go back in time to when Google first launched in 1998. Cofounders Larry Page and Sergey Brin started with a simple mission that remains the company's mission statement today, over two decades later:
Our mission is to organize the world's information and make it universally accessible and useful.
That last word should stand to any content creator and digital marketer. That's essentially the prerequisite for your content to earn high rankings – it needs to be useful and relevant to the searcher.
This is why buyer persona research and keyword research should be steering your content strategy. When you fully understand who your audience is and what content they need, you are well equipped to generate ideas and create targeted, insightful, educational content.
Here are a few best practices to keep in mind when you're producing content:
Provide more value on a topic that is covered and bring your unique perspective to it.
Create for the searcher, not search engines.
Include colors and visuals to deliver an engaging (but not overly distracting) user experience.
Showcase your credibility by including original research and citing other sources of research, and include a bio to show readers why you're an expert.
If your blog articles and videos are awesome, then your audience will take notice, as well as others in your industry. This will help you with your external link building strategy.
5. Build External Backlinks
Your external links are a big factor in whether your pages rank on the first page of Google or get hidden under your competitors' search results. Naturally, pages that are linked the most by outside sites are likely to be viewed by search engines as the most relevant and important.
To determine the popularity of your pages by the number of external links, sign up for tools like Ahrefs, which gives you results for domains based on the number of links to your site and whether those sites linking to you are authoritative.
It's not enough to get the most links to your site. Your site should also earn the links of sites that are respected and have high authority in their field or niche.
If spammy, sketchy sites are linking your content, you won't see any improvements in link equity, aka link juice. This term refers to the overall value being passed through hyperlinks. Search engines view links as votes of confidence, and you want the best of the best showing their belief in you as a credible source.
When it comes to earning backlinks, you don't want to just sit back and wait for others to notice you. Be proactive by engaging on social media and reaching out to influencers.
Get Social
You don't need to manually post every article you create. This is where social media management tools come in handy.
Automation makes SEO professionals' lives easier. For social media, they frequently schedule posts in advance to continue to be on their followers' radar and keep up with engagement.
There are so many great tools you can use to set up your social media calendars and to keep a record of your published and unpublished posts.
Also, add sharing buttons on your blog articles so your readers can quickly distribute your content to their followers. One of the best ways to encourage readers to share is to create shareable, customized images.
In fact, posts with images are most likely to be shared. For example, according to research from Buffer, tweets that feature images have an 18% higher clickthrough rate than posts that do not have pictures.
With the right images, you are making your inbound marketing content shareworthy, which can boost your number of followers and the number of external links to your site.
But you don't have to be a graphic designer to get your followers to share your content. Use programs like Photoshop, Canva, or other graphic design software to make images like banners, social media pics, and infographics.
Connect With Influencers
Companies big and small can participate in one of the most hyped up forms of inbound marketing: influencer marketing. Using influencers who already earned the trust or respect of thousands or millions of followers to promote products and services can be effective for companies that want to expand their reach.
However, your marketing budget or other forms of compensation you may provide will likely affect the number of popularity of the influencers who promote your products or services.
Some social media stars, like those on Instagram, are paid thousands per post. But if you don't have the budget for these Instagram influencers, you can still gain the attention of other high-profile social media accounts by offering free products or services in exchange for their review or sponsored posts.
6. Add Internal Backlinks
Building links isn't just for external resources. You also need to link within your own website. For example, link to other blog articles you created to give the reader more resources to check out on other relevant topics.
The best way to boost your SEO through internal linking is by adopting the topic cluster model.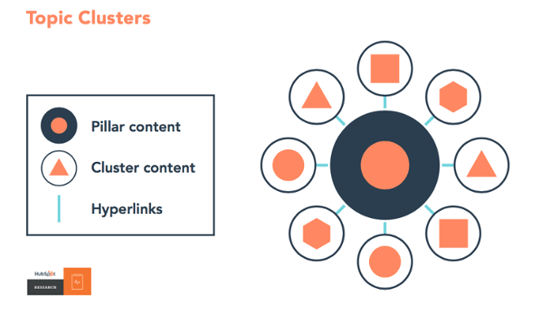 As you can see, these models consist of three key elements:
Pillar content – These are called pillar pages. They cover a general topic in a comprehensive way.
Cluster content – This content centers of subtopics that fall under the general topic being covered in the pillar page.
Hyperlinks – These join cluster content to pillar content. It guides readers to other content you have related to the topic they're reading about, and it tells search engines that the pillar page and cluster content have a semantic relationship.
HubSpot's content strategy tool helps you visualize your internal linking strategy. Plus, it gives you topic suggestions based on relevance, popularity, and competition, so you will never run out of cluster content and pillar page ideas.
7. Measure SEO Performance
Whether your inbound marketing strategy focuses on on-page SEO or social media marketing, an SEO analytics platform is a must for tracking your strategy's performance and outcomes.
A free yet comprehensive SEO analytics platform even beginners can use is Google Analytics.
This tool breaks down features into categories like behavior and acquisition to understand where your traffic is coming from, the amount of traffic you're receiving and which of your pages are the most popular. For example, under Acquisition, you can view the number of visits from organic sources like search engine result pages, social media networks, or other sources.
As you explore all the features SEO analytics platforms have to offer, you can monitor key trends in traffic visits. Plus, you can identify which pages draw the most traffic so you can refine your inbound marketing strategy and concentrate on your highest revenue- and traffic-driving pages.
8. Make the Most Out of Your Content
You put a lot of work and time into creating content. Why not get as much value as you can out of each piece?
There are a few simple ways you can repurpose your existing pieces of content. This involves taking a published piece and changing it in a way to serve another purpose.
For example, your list article on shocking stats about your industry can be designed into a compelling infographic. And you can even distribute graphics for each stat listed on social to expand your reach and gain links back to your site.
Another great way to gain the most SEO value from your content is by historically optimizing your blog articles. This requires you to find your top-performing articles, update the content to make noticeable improvements (like adding new tips or up-to-date research), and unpublish and republish the articles.
Ultimately, the main goal of historical optimization is to ensure your existing articles are the most accurate and comprehensive they can be. Your audience will take notice of your diligence in maintaining high quality.
9. Continue Learning
Finally, the last tip SEO beginners need to follow in 2019 – Stay focused on your education.
The best way to improve your SEO and deliver real results is by staying in the know on all things SEO. The more you read and learn about SEO, the closer you are to earning your expert status.
Subscribe to blogs, take online courses, engage in online groups and communities, and join professional organizations. Bottom line: Dedicate your time to mastering SEO in practice and learning as much as you can from trusted SEO experts.
Soon, that expert will be you.
Blog Source: Blue Leadz | 9 SEO Tips and Tricks Beginners Need to Know In 2019