Best Cheques for your Business
What Cheques Are Best For Business?
If you're wondering which cheques are best for your business, there are three main options to consider. Two are more traditional and one is not not-so-traditional. Let's start with the traditional business cheque options: handwritten business cheques and printer cheques.
Handwritten Cheques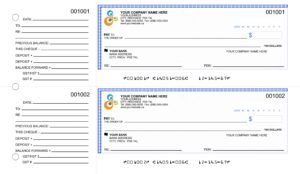 Firstly, the handwritten or manual business cheques. These come 2-per-page with a stub on the left side for you to record cheque details. They are convenient in that they are stored in a cheque binder that can be transported easily and used wherever you need to write a cheque. They also come in duplicates, which allows for all information you fill out on the cheque to automatically be transferred to a duplicate copy that you keep for your records. The duplicate version is good for those submitting details to a bookkeeper or accountant, as everything you wrote on the cheque is there on the duplicate and no transcribing issues occur. You can have these cheques match your company image by having your company logo printed on them in black and white or full colour, thereby maintaining your corporate branding. For many businesses, these are the best business cheques for their needs.
Order Manual Business Cheques >
Laser/Inkjet Printer Cheques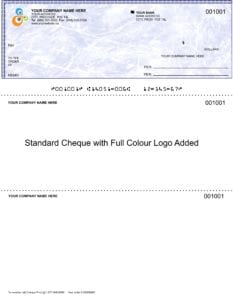 These are another great business cheque option. These are designed to be used with a computerized accounting system, such as QuickBooks or Simply Accounting, and will be printed with your desktop laser or inkjet printer. Using laser/inkjet cheques gives you a few advantages over using a handwritten cheque. With the computer cheques you not only get a professional looking corporate cheque, you have some peace of mind that a cheque cannot be produced as easily, because someone would need access to your accounting software in order to print one. With the manual version, anyone with a pen could fill one out, thereby making them a little less secure. With an accounting software generated cheque, you have consistency with the payee and addresses, thereby allowing you to simply slip the cheque and stub into a double window envelope. These cheques can also be customized with a business logo. You do not have to address an envelope, nor does the post office have to read your handwriting. The laser/inkjet cheques also provide you with a complete and professional looking cheque with an accounting record. For tech-savvy small businesses and larger companies, these are typically the best business cheques to use.
Order Computer Printer Cheques >
Personal Cheques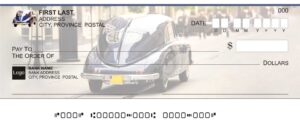 The third and less-traditional business cheque option involves using personal sized cheques. Some cheque printers such as D & H, traditionally, will not print a business or organization name on this type of cheque. However, Cheque Print allows for full customization. Personal sized cheques are smaller and easier to transport, plus they come self-contained in chequebooks along with a handy clear vinyl wallet and transaction booklet to record the details, and can also be ordered with duplicates for easy record-keeping. This allows you to submit the exact copy to whomever is doing your bookkeeping. Personal cheque booklets fit easily in a briefcase, purse or desk drawer. These cheques will be processed the same way as a full-sized manual business cheque and all financial institutions will accept them just like any other. Just like the other options, personal sized cheques can be fully customized as well, allowing for your brand to be featured with a logo and other imagery. If you are running a small or non-profit organization that requires a small number of cheques to be written, then this type of cheque may be best for your business.
Order Custom Personal Cheques >
If you're still not sure what the best business cheques are for you, please contact our helpful team. We can give you an idea of all your options with customization and costs, so you can make the right decision. We are cheque experts and happy to help our customers find what works for them.
-ctto