The trending fantasy games can create bestsellers in every industry and domain
Fantasy gaming is no longer the prerogative of the sports industry. Now brands are trying out fantasy gamification to engage customers.
Fantasy game industry is not limited to sports anymore despite having several options in the sports domain itself. That's because there are millions of users who don't follow any specific sports but are competitive and love playing games online. Taking this clue, several brands have successfully engaged their customers onto fantasy game platforms winning brand loyalty and long-term customer relationships.
Vinfotech, being a world leader in creating highly polished fantasy sports websites and mobile applications, has experienced the level of engagement fantasy games platforms can create. Apart from supporting all sports and leagues, our native apps are easily customizable as per industry or domain, language or demographic.
The traditional fantasy sports industry
Traditionally, fantasy sports platforms are based on real-time sports such as football, baseball and leagues such as British Premier League or La Liga. Fantasy sports is now a $7 billion industry according to Fantasy Sports Trade Association (FSTA). With more and more sports being added into the kitty, it may completely prove its current critics wrong in the next few years. There are emerging markets such as India, China, Malaysia and Africa that are now moving towards it at a fast pace.

Out-of-box fantasy sports platforms
Over the course of eight years, we have pushed our boundaries and created several out-of-box fantasy sports solutions for businesses who dared to think different. Our fantasy sports platforms have enabled several brands in industries such as politics, music, movies, stocks, eSports in a never-before-seen branding on fantasy gamified apps. You can engage your target by building engaging fantasy gaming apps for your sales teams or your employees; for teenagers or senior citizens; for a niche community or a specific set of experts. There's so much that can be done through fantasy gaming platforms. A few examples of how you can use fantasy gaming apps for your industry are as follows:
# 1 Fantasy games for customer engagement
If you are a brand looking to engage your target audience in a unique way, you may have invested money in sports sponsorship. However, in just half of that cost, you can now create a fantasy sports platform and engage your consumers indefinitely. We can create stunning fantasy sports platforms to engage your most loyal consumers who would in turn bring more consumers. This is a unique yet productive way of getting the marketing ROI and a strong brand recall value.
# 2. Create a globally appealing fantasy eSports software
If you have ever thought of creating a fantasy esports platforms for leagues like DotA 2 and League of Legends, you may be thinking in the right direction. The eSports market touched 134 million viewers by the end of 2015. Vinfotech has the infrastructure and the experience to create competitive fantasy software for eSports leagues like Counter-Strike GO or League of Legends etc. or series like Halo Championship Series, Capcom Cup, Call of Duty World League etc.
# 3 Fantasy games/sports on TV and award shows
Reality television and award shows offer so much in terms of scope, seasons and gamification that a whole platform can be built around them. You can now build a fantasy league around a popular TV show and experience a whole new user evolution. Leverage billions of fans that follow specific TV shows such as Game of Thrones or Vikings or award shows such as Emmy, Grammy, Oscar or Bafta and create a winning business. There was never a better time to create killer daily fantasy TV/award shows app or a season-long fantasy tv/award shows app. Vinfotech has created fantasy reality tv software for popular shows like Game of Thrones, Big Brother, American Idol, America's got talent, Fear factor, Masterchef Australia.
# 4 Fantasy software around politics
Politics is no less thrilling when it comes to creating a fantasy gaming platform around it. American, European and Asian demographics follow a certain kind of electoral system in terms of selecting candidates for Presidentship/Prime Ministership. There can actually be daily fantasy games as well as season-long games designed around Assembly elections. Even famous proposed bills and laws that are awaiting votes can be converted into engaging fantasy games. Vinfotech has experience in developing political fantasy software as we have recently created Nationball – a fantasy sport around American political system.

# 5 Fantasy stocks software
The ups and downs of the stock market are perfect content drivers for a thrilling fantasy gaming platform. You can pioneer a whole new business model in your region. Stock market updates are often given to political changes and even weather. The fantasy stock market software can help players increase their knowledge of stocks.
This is a market that's waiting to expand because millennials are becoming more investment-conscious and are seeking ways to become empowered about stock investments.

# 6 Fantasy games on movies
Movie franchises created by brands such as DC, Marvel, Disney etc offer great scope for building fantasy games. Imagine if there were fantasy games built around Star Wars, Star Trek, Avengers or Deadpool series. This opens up a whole new avenue of movie and merchandise promotions. Vinfotech has the requisite experience to create a fantasy movie league platform. Read more here.
Vinfotech has a wide portfolio on fantasy sports website and mobile applications that have won millions of users. Do check out some facts about us –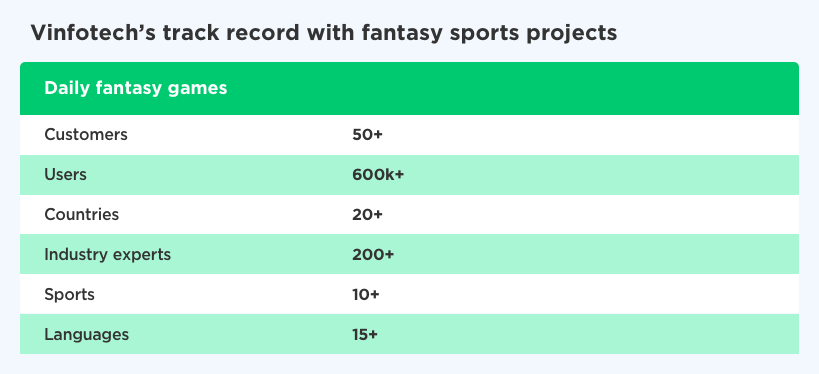 We collaborate with industry leading names and legal bodies
Over the course of eight years, Vinfotech has built credible partnerships with industry leading brands in fantasy sports business. We have partnered with leading data feed providers such as Sport Radar, Stats, Opta, Fantasy Data, Sports Direct Inc, Goal Serve apart from having partnerships with payment gateways such as PayTM, PayU Money, Safe Charge, Strive, Cashfree among others. We are also members with global regulatory bodies, namely, FSTA (Fantasy Sports Trade Association) and IFSC (Indian Federation of Sports Gaming). Our CEO Akshay Jain has been invited on several fantasy sports industry events to express his opinion on the growth of the industry.
Why Vinfotech?
# 1 Unmatched designs
Vinfotech designs for users. Our fantasy sports and gaming apps are created keeping user's gaming inclination in mind.
# 2 Scalable platform
Our fantasy gaming platform comes with cutting edge performance and massive scalability. It can handle millions of users.
# 3 Secured platforms on blockchain
We are one of the early adopters in the fantasy sports industry to use blockchain technology for building fantasy sports and gaming applications. This gives you an added security on your platforms.
# 4 We are aware of the regulations
We are into the industry for almost eight years. We are aware of the rules and laws across continents. We build products that are legal and credible.
If you wish to get millions of fans for your own brand, do call us.
Blog Source: Vinfotech | Fantasy games can create bestsellers in every industry and domain